Northern Legacy Horse Farm is located on 320 acres of beautiful land running parallel to the Vermillion River in Whitefish, ON.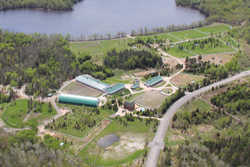 Our facilites include :
Two steel frame barns with wood interiors and in-floor heating with a total of 30 12X12 stalls
Seventeen turnout paddocks made with four strand flex fence
Two outdoor, chain link stallion pens
A 72X200 ft.  Indoor arena
A 60 ft. Round pen
Massive storage hay barn
Feed storage/blanket room
Miles of beautiful trails, many of them leading to an old golf course with lots of room for galloping!
In 2018 we started hosting two Hunter/Jumper Trillium Shows yearly with two big grass rings at the old golf course location. The Greater Whitefish Open and the Vermillion Classic
We are currently in the process of adding more turnouts, an outdoor grass riding ring and a hot walker.